INTRODUCING THE JELLY PACK 30ML
The JOne Jelly Pack is a new, multitasking innovation that simplifies your everyday skincare routine.
It combines your morning skincare routine, a mask and a primer all-in-one. 
Ha Jiwon developed this after years of spending hours in morning trying to make her skin look its best for photo & film shoots – her dream was to have a step that did it all, and after working with one of Korea's top labs for many months, she finally created this special formula.
Introducing the JOne Jelly Pack that promotes dramatically firmed skin with improved resilience with a pore-smooth finish to your beautiful skin!
The bottle itself is a minimalist design that would fit right in on any beauty shelf. 
The cap reveals a pump underneath, which is how the product is dispensed. 
When pumping out the product, you'll immediately notice that the gel has a thicker consistency but it melts into skin when spread thinly.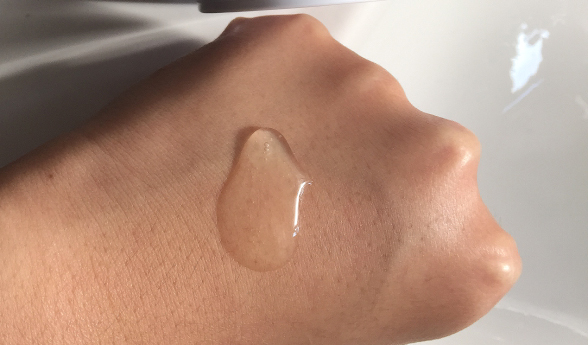 Look how fluid the gel looks! Its a fully transparent and scent-free gel.
Cathy of Glow Recipe's Review!
(Credits to Glow Recipe.com)

The Performance
I tested the pack as an all-in-one product, where in the morning I would cleanse, apply the pack, and then go about my day. Besides the cooling and tightening effects, it also kept me moisturized without feeling sticky or caked on. As someone who only leaves herself ten minutes to get ready for the day every morning, this pack was a blessing. And it was especially useful for those sleep deprived nights. Usually I'd dread putting on BB the next morning after a long night, knowing that it might look a little cakey and pill, but the JOne Jelly Pack would help the BB Cream application go on seamlessly.
When to use it
This is a true multi-tasker. You can use it alone after cleansing in the morning and go straight to UV protection and makeup. Or another way to use it is as the last step of your skincare routine, both morning and night as it creates a great moisture barrier on skin. When used at night, especially considering how cold it has been the past few days, I applied a night cream on top for extra protection and woke up to still hydrated, 'jelly' like skin. Use it on delicate areas like the neck and chest to keep these areas firm and hydrated.
Which skin type is it good for?
✔ Normal
✔ Oily
✔ Combination
✔ Dry
✔ Sensitive
What it is?
A multitasking, antiaging formula that works as a hydrating morning mask and makeup-gripping primer.

Solutions for?
– Firmness and elasticity
– Dullness and uneven texture
– Dryness
Introducing the JONE HANA CREAM 20G


More Information on Hana Cream
How to use the Hana Cream?
– When applying a cream during a skin care routine, use a spatula to take a pearl out of the bottle. 
– Gently press it with fingers and melt it with the body temperature. 
– Then, gently apply it in appropriate portions. 
Light, Pearl Size for easy application with no strong fragrances.

Clinically proven results!