TIMELESS™ TOMATO SUPPLEMENT 30 CAPSULES – To be taken one daily
Timeless Tomato™ Supplement is enriched with 100% premium, natural ingredients that protects and maximizes our skin's health and overall body wellness from within
Timeless Tomato™ is a catalyst made from a special varietal of 100% natural Non-Genetically-Modified Tomato and is Preservative-Free
Key ingredients -PhytoflORAL®, Grape seed extract, L-cysteine, L-Glathione, Ascorbyl Palmitate andCoEnzyme Q10
Timeless Tomato – 30 Capsules
Timeless Tomato™ Supplement is enriched with 100% premium, natural ingredients that protects and maximizes our skin's health and overall body wellness from within. Timeless Tomato™ is a catalyst made from a special varietal of 100% natural Non-Genetically-Modified Tomato and is Preservative-Free.
Timeless Tomato™ consists of phytoflORAL®, L-glutathione, Ascorbyl Palmitate, Grape seed extract, L-cysteine and Coenzyme Q10 and other active ingredients. All ingredients used in Timeless Tomato™ formula has excellent anti-inflammatory and antioxidant capabilities. They prevent damages caused by free radicals that leads to premature aging. Ingredients used in Timeless Tomato™ gives the skin a healthy, beautiful, radiant and younger looking skin from within.

L-cysteine
L-cysteine is a basic building block of glutathione and proteins.  L-cysteine helps to boost the liver's production of glutathione and has valuable anti-oxidant properties such as working as a scavenger of free radicals that causes cellular damage and also boost the human body immune system.
L-cysteine, also known as the scavenger of oxidative stress, has the most important role of reviving glutathione, one of the most prevalent antioxidants in the body. Researchers believe that we all need L-cysteine in order to fight oxidative stress and conditions affecting the brain and lungs.
L-cysteine is used therapeutically and nutritionally to improve the health of humans. It's a basic building block of glutathione, which has been coined "the mother of all antioxidants". L-cysteine has been added to the formula as it has valuable antioxidant properties, such as working as a scavenger of free radicals that causes cellular damage and boosting the body's immune system. At the same time, improving antioxidant capacity through the preservation of glutathione. Glutathione converts dark brown melanin to pink melanin. However, glutathione – taken orally or applied topically – cannot be absorbed by the body. Only L-cysteine transformed glutathione can be absorbed by the body.
L-cysteine also has other valuable benefits; it promotes detoxification, increases male fertility, balances blood sugar levels, supports digestive health and helps relieves symptoms of respiratory conditions.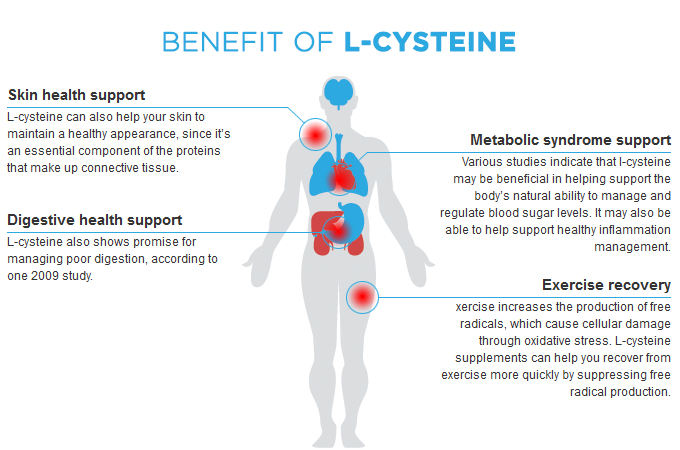 L-Gluthathione
L-Glutathione, commonly coined as "The Mother of all Antioxidants", is involved in many processes in the human body, including tissue building and repair, chemicals and protein needed in the body for the immune system. Glutathione is the body's most powerful antioxidant, help whiten skin though and achieve the skin pigmentation they desire.
L-glutathione, a substance produced naturally by the liver, can also be found in fruits, vegetables and meats, and is the next prime ingredient in Timeless Tomato™. L-glutathione is involved in many processes in the body, including tissue building and repair, making chemicals and proteins needed in the body and for the immune system.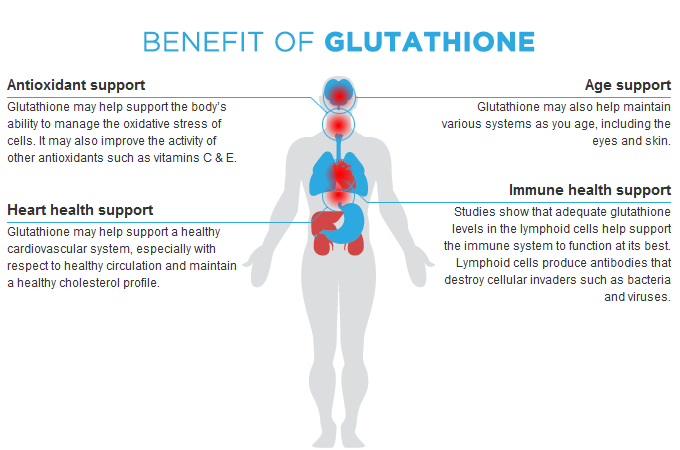 Ascorbyl Palmitate
Ascorbyl palmitate is a fat (oil) soluble form of vitamin C that is used as an antioxidant and preservative in foods, vitamins, drugs and cosmetics. Being fat soluble, it is absorbed into the cell membrane where ascorbic acid cannot reach. It is therefore retained in the body for a longer period of time. Humans cannot produce this valuable type of vitamin and therefore it must be taken from external sources in order to avoid Vitamin C deficiency diseases.
CoEnzyme Q10
Coenzyme Q10, also known as CoQ10, is a compound that helps generate energy in your cells. Our body produces CoQ10 naturally, but its production tends to decrease with age. In addition to its internal benefits, CoQ10 also plays a role in making skin look younger.
Coenzyme Q10 (CoQ10) is a substance similar to a vitamin. It is found in every cell of the body. Your body makes CoQ10, and your cells use it to produce energy your body needs for cell growth and maintenance. It also functions as an antioxidant, which protects the body from damage caused by harmful molecules. The lack of CoQ10 results in the impeded ability to produce collagen and elastin. Collagen is important because it makes your skin firm while elastin gives our skin flexibility.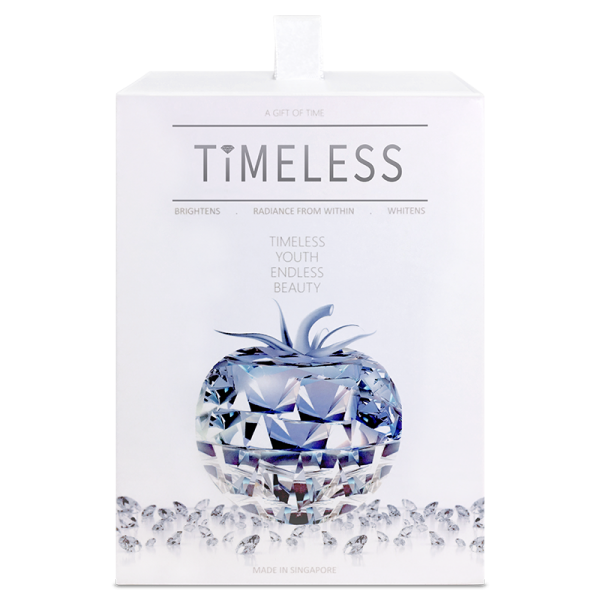 Consumption of Timeless Tomato
The recommended intake for Timeless Tomato™ is one capsule a day. In view that the skin is the largest organ in the body and that the benefits are delivered internally and externally, it is expected to take 2 to 3 months for visible radiance and lightening effects to appear. However, many patients have provided positive feedback that benefits of radiance and lightening are visible from as soon as just 21 days of one-capsule-a-day consumption.
Taking Timeless Tomato™ is like eating fresh tomatoes and can be taken anytime, day or night, before food or after food. It is recommended that it be taken daily at a regular time (i.e. if a capsule is taken in the morning on the 1st cycle, try to follow the same routine on the following days thereafter).
As the ingredients used in the formula of Timeless Tomato™ are all natural, it should be consumed continuously. Like with any food or other safe consumables, the results are reversible – when one stops consuming the supplement, the condition will not worsen but it will lose the benefits derived from consuming this supplement initially. Therefore, it is advisable to continue Timeless Tomato™ as a daily supplement beneficial to overall.
RESULTS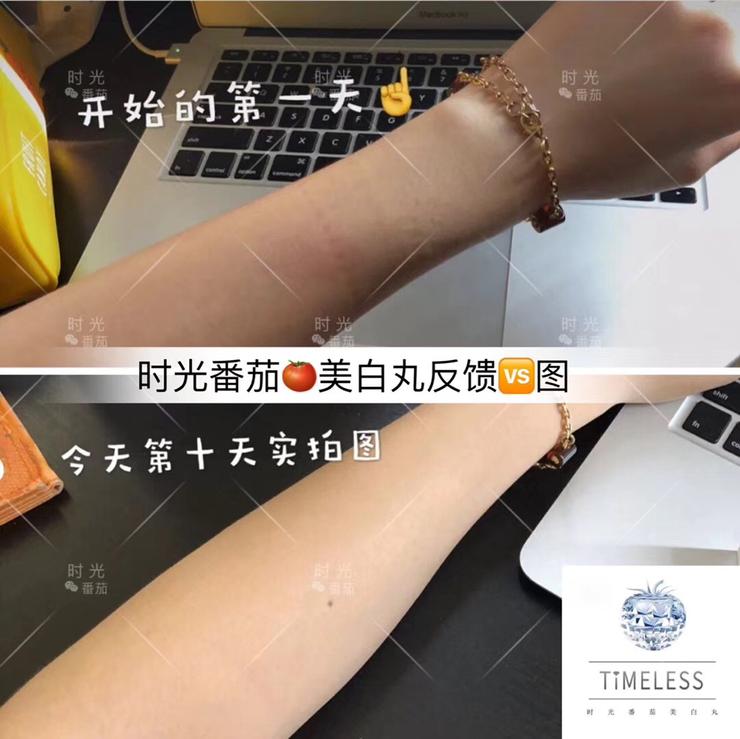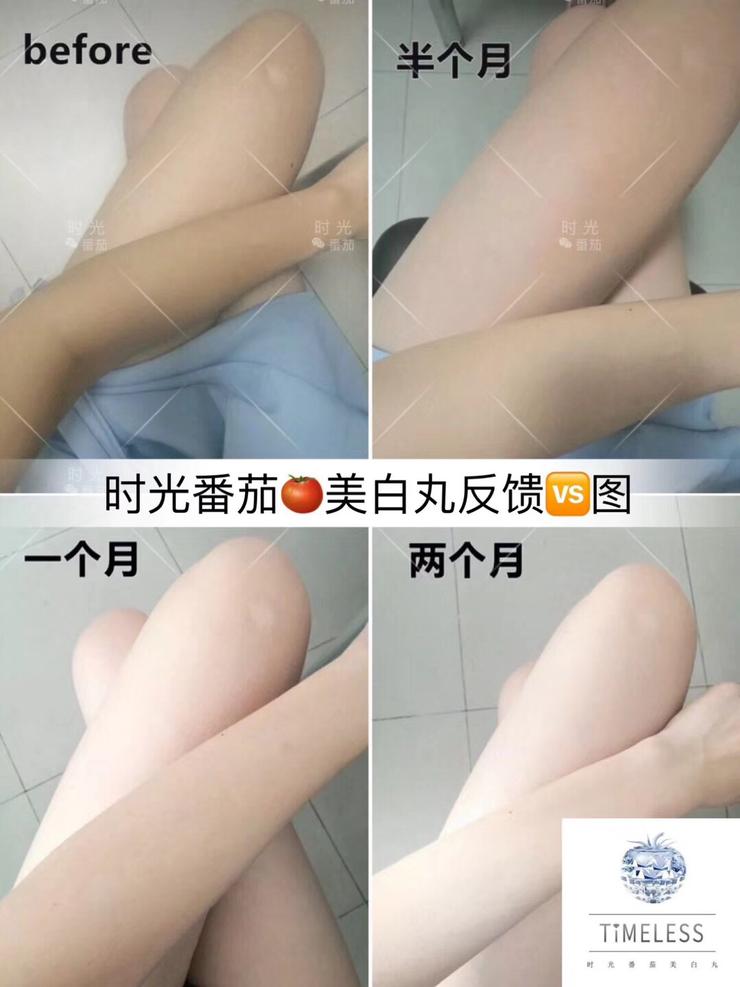 *Images are taken from the original source from Timeless.